How terrible is that?? Finihsing the quilt I had planned on doing last (since it is for moi) first. I wound up getting hooked on the pattern and it just took off, almost without me realizing it :). I am working on lots of quilts at the moment and was not expecting to finish one so quickly, but a week and a half was all it took! I followed the previous quilt along from Lee over at
http://freshlypieced.blogspot.com/
and it is so perfectly explained!
The fabrics I chose are the colors of sunsets and sunset is my favorite time of day. I knew I needed a blanket to cuddle in that reflected my peaceful time. I saw Lee's quilt along about a month after it ended, but I knew it was "the" pattern that would be my quilt. I wound up machine binding this, and am in absolute heaven!! I am hooked forever- never again will I hand sew a binding- oh, such a nice feeling!
I used oranges, golds, reds, deep pinks, lavendars, and purples, with a few blues thrown in. It was so fun picking out the quarter yards I wanted- the poor, nice quilt shop cut over 60 prints for me :). And lots of Kona Ash, ordered from Etsy friends. Then it took months of looking and searching to find the backing. I wanted the specific colors I had chosen, and only those. Everything I found just didn't have the right feel, but I finally found EXACTLY the right thing at Hawthorne Threads (
http://hawthornethreads.com/
). Charlie and Lindsey have an incredble search engine that did the trick! So Castle Peeps it was, specifically Castle Town in Cardinal Red. Put it all together, with some quilting and a Kona Orange border, and you have the perfect sunset quilt for me :)!
Here's the folded and ready to cuddle picture:
I'm participating in the Gen X Quilter's Summer Fair and wanted to give you my favorite summer recipe.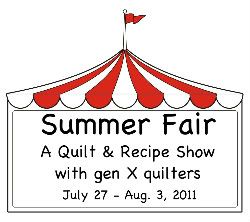 It's the easiest recipe I know, but the yummiest too! You will never need to go to a BBQ house ever again... Wtihout further ado, Pulled Pork:
Ingredients:
4-8 lbs. Boston Butt Pork Roast (it HAS to be a Boston Butt to taste and pull the best)
2 bottles of Liquid Smoke (I use Hickory flavor) per 4 lbs of meat (8 lbs meat=4 bottles)
1 crockpot
Put pork and Liquid Smoke in crockpot and turn it on high for approx. 8 hours - I have found the altitude changes this number quite a bit. Just check it every so often, once it falls apart really, it is ready to pull. Take it out of the crockpot and put it in an old cookie sheet. Using two forks, pull the pork, separating the fat out. Put the pulled pork in a container and spoon several large spoonfuls of the "juice" from the crockpot to keep it moist. **This can be frozen once prepared and reheated later.**
Once you're ready to eat, put pulled pork on bun and add your favorite bbq sauce- for me and mine, that's Sticky Finger's Carolina (mustard base)- ohhh, makes my mouth water just thinking of it! Have a fun summer picnic!!